Once considered futuristic flights of fancy, highly sophisticated access control systems are now commonplace particularly for larger companies.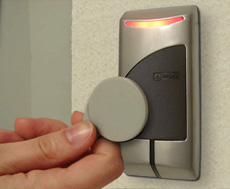 We can install systems which provide a detailed record of all staff and visitor traffic utilising interactive fobs or swipe cards with personalised photographic ID or entry codes.
These can be linked to intercom systems and video links to provide the ultimate digital monitoring of visitors to any office, factory or shop premises.
Available in a variety of traditional and contemporary finishes, all our systems include a 12 Month product warranty and are installed in accordance with our SSAIB Certification.
For more information, please do not hesitate to contact us for a free consultation and property review.